Supima or Egyptian Cotton?
what about Bamboo and Micro Cotton's?
Sometimes it's enough to make your head go in deep thinking in your Bath towels materials which can be expensive and what exactly are you paying for that you won't get with anycotton towel?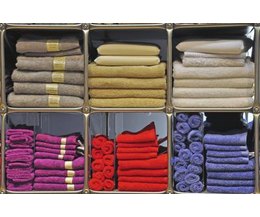 Here are some terms and tips on what to look for in a quality luxury bath towel.
There are many wonderful bath towels available and you can pick the best one for your wants and needs when you understand what you are looking at and what it means!
Egyptian Cotton
Egyptian cotton is widely acknowledged as one of the best qualities of cotton in the world. It is known for its strength and super-soft
feel.
Singles Yarn
This mean that a single yarn is being used in the pile. Longer-pile towels tend to use a Singles yarn so that you can achieve the longer
pile without adding too much weight to the towel.
Doubles Yarn
This is where two yarns are ply'd (twisted) together to form one thicker, heavier yarn. A Doubles yarn is generally used to achieve a
towel that has a shorter, neater pile and a heavier weight. However, it's also a way to achieve a heavyweight towel with a longer pile,
without having to add too much additional pile length.
Low Twist
Clever low twist technology makes towelling feel thicker and softer than normal towelling yet also beautifully lightweight, incredibly
absorbent and fast drying too which is used in manufacturing the best batht towels .
How is it done? The yarn is 'wound' with Poly Vinyl Alcohol which acts as a core and stops the yarn being twisted as it is wound.
The
yarn is then stable, and can be woven and processed.
After the weaving, dyeing and processing the Poly Vinyl Alcohol dissolves, leaving
a cotton yarn that has no twist to it, and a hollow core.